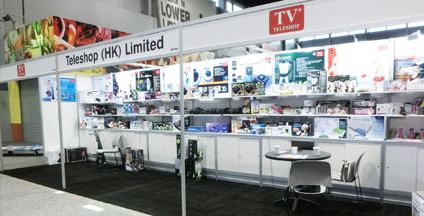 Teleshop
It is a member company,Teleshop has established itself as a source of as seen on TV products especially for the USA and Europe market.Today Teleshop is a large,modern joint venture enterprise.The company specializes in manufacturer of high end as seen on TV and health products.Some of Teleshop products have generated 8-10 times profit. With the experienced over one decade the company concentrate on OEM projects and dealing in products with international approval like CE,GS,UL,FCC etc.
Teleshop Limited.
Unit 1119 Metro centre II 21 Lam Hing street, KowloonBay,Kowloon,Hongkong.
Tel:(852) 2154 1357 Fax: (852) 2855 8511 Email:info@teleshopltd.com
COMET INTERNATIONAL (HK) Ltd.
Comet International (HK) Ltd has specialized in supplying entire product range of electrical home appliances.Comet focus on providing end to end service from product devolopment to on time delivery of goods.It is supported with experienced and expertise of its well maintained and efficient divisions of Merchandising and Product Devolopment,Quality Assurance and Administration and Shipping.
COMET INTERNATIONAL (HK) Ltd.
Unit 1128 Metro centre II 21 Lam Hing street,
KowloonBay,Kowloon,
Hongkong.
Tel:(852) 3528 0040
Fax: (852) 3528 0048

COMET HK Ltd.
Comet HK Ltd is trading company.Many of our customers have asked us to source some products for them,it is impossible for any factory to produce all at thier own.So we offer our service to our customers,we take care of all responsibilities like to get most competitive price,delivery,quality control,inspection and secured payment etc.Even for our trading items we take care of our all quality issues and stand behind our offered products.
COMET (HK) Ltd.
Unit 1128 Metro centre II
21 Lam Hing street,
KowloonBay,Kowloon,
Hongkong.
Tel:(852) 2872 8086
Fax: (852) 2855 8511
COMET (India)
Comet(India) is new member of the group is already climbing the ladder of growth.Its focus is on supplying building materials and Household appliances while being the vital link between the Comet Group Head Office in Hongkong and Indian market. COMET (India)
208 Harekrishna A1 Krishna complex
Above Nulif HospitalLBS Marg
Ghatkopar(W) Mumbai 400 086,
India
Tel:(91) 22 5605 4895
Second Address
Makers Chamber III ,Nariman Point
Mumbai 400 021
India
COMET (China)
Comet(China) manages an efficient sourcing and inspection department.It maintains proximity with the factory and thus enables not only prompt but also quality worksoffer and shipment.
COMET (China)
Flat 17 E/F Meishu Building,Beser Garden,
Luoxi,Panyu Guangzhou,